Hello to all European (and not only) basketball fans out there! First of all let me introduce myself. My name is Natasha and I'm a former basketball cheerleader. Being a cheerleader was great back in the days, we fooled around with the players (if you know what I mean), travelled, danced and partied wildly. Unfortunately one of my colleagues got into trouble for doing so…
Many of my friends from the basketball world call me to ask me why has miss Nastasya Ziaditdinova been removed from CSKA Moscow cheerleading team and from the team's website dance team section some months ago. To be honest, I was expecting some interest in her not performing anymore since she is one of the most good looking cheerleaders in the world (and you know how hard it is for a woman to compliment another woman).
Well I looked into it and contacted some of the cheerleaders in CSKA Moscow to find out what exactly happened. Apparently CSKA has a strict rule of non-involvement between their players and their cheerleaders. And beautiful Anastasya broke that rule.
Who was the lucky player? Alexey Shved. To be honest I hadn't even heard of this player and I looked him up and to be frank I was disappointed in Anastasya's taste in men. I would understand losing your job for men like David Andersen (mmmm) and Teo Papaloukas (Olympian God) or even Matjaz Smodis (ohhhh my God!) but Shved? Come on, he is barely a man who has not even grown a proper moustashe yet.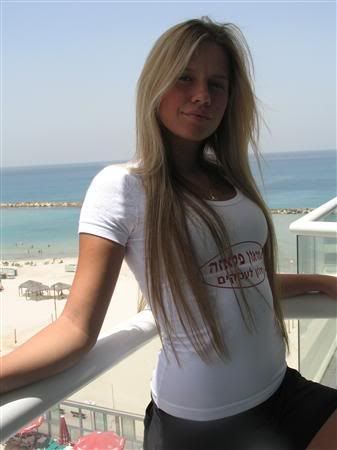 Well, anyway… as I am very curious and like to gossip a lot I digged further to learn more spicy details about this affair. Apparently the couple tried to keep their affair secret but after some pictures surfaced to publicy they were exposed. and as that wasn't enough I found one of the pictures responsible for everything, where it is more than obvious that Anastasya and Shved are a couple in love.
The author of this article is not indending to harm anyone's reputation. If someone is offended by the conents of this article, contact us and it will be removed.
Show comments