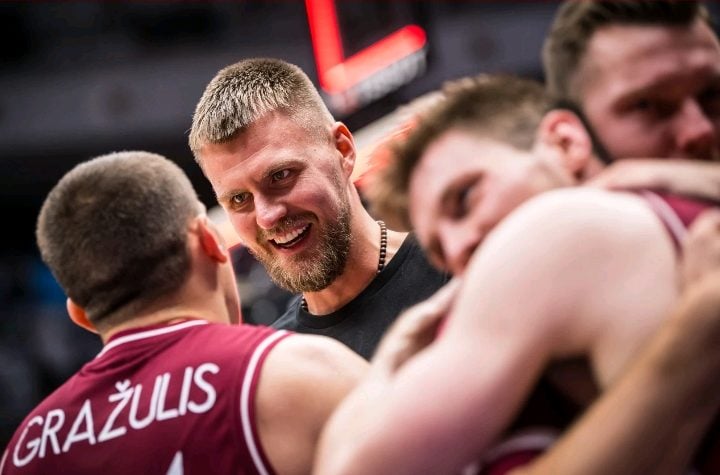 Italy got off to a strong start in the game, capitalizing on Latvia's busy schedule. However, Andrejs Grazulis ultimately seized control for the Three Stars, securing an 87-82 victory.
Italy played without Simone Fontecchio, while Latvia's dynamic duo, Davis Bertans and Arturs Zagars, began the game on the bench and had limited minutes.
Latvia will compete for fifth place to conclude their journey in the FIBA Basketball World Cup 2023, while Italy will battle for seventh.
The first half saw the two teams in close competition.
However, in the second half, Coach Luca Banchi's decision to insert Arturs Zagars into the starting lineup signaled Latvia's intention to embark on one of their trademark runs.
The strategy proved successful as Zagars sank consecutive three-pointers, extending Latvia's lead to double digits. Whenever Italy attempted a comeback, Andrejs Grazulis' finesse around the rim maintained Latvia's advantage.
The game witnessed a dramatic 27-point swing. Italy held a 13-point lead early on, only to watch Latvia take control and establish a 14-point lead early in the third quarter.
As the game turned into a contest of three-point shooting, Italy managed to narrow the deficit to just two points with less than a minute remaining.
In the decisive moment, Andrejs Grazulis stepped up, sinking the game-winning three-pointer from the left corner with just 24 seconds left to play.
Andrejs Grazulis has emerged as one of the standout performers in the World Cup, delivering his best scoring performance of the tournament with 28 points on an impressive 12-of-13 shooting, surpassing his previous high of 24 points against Brazil.
"It was a tough game, second one in two days," Andrejs Grazulis said. "We started slow, but we got our game rolling and then the game became a bit easier. We just played our basketball, played fast, that helped us a lot.
"Just happy with the victory. To be honest, it was just another game for me. I have to go back to my club in Italy, this was a cherry on top to go back there with a win."
Watch the game highlights between Italy and Latvia in the Class. Games 5-8 at the FIBA Basketball World Cup 2023: