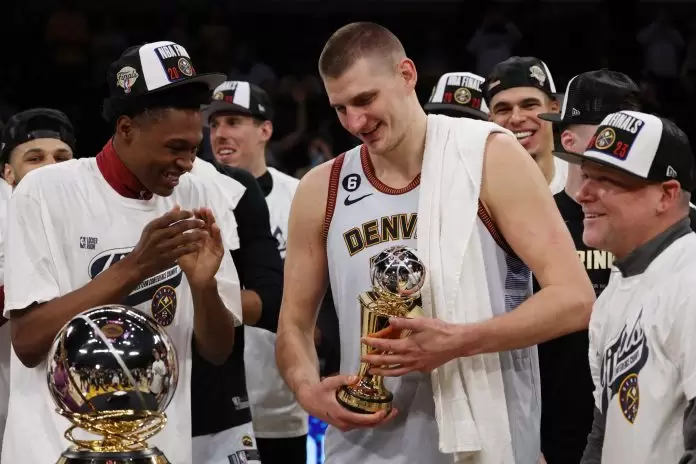 Mike Miller, who witnessed the early days of Nikola Jokic's career with the Nuggets, has always been a strong advocate for the Serbian superstar. As Jokic continues to establish himself as one of the best players in the world, Miller's belief in his potential has been reaffirmed.
"I'm not going to sound like I'm crazy and say that I thought he'd be a two-time MVP and be on this stage like this. But I did. I really did," Miller expressed in an interview with DNVR after the Nuggets' Game 3 win against the Miami Heat in the NBA Finals. "That's just how good he was and how good he is."
During the game, Jokic and Jamal Murray put on a breathtaking performance, leading the Nuggets to a historic 109-94 victory. Jokic became the first player in NBA Finals history to record a 30-20-10 game with 32 points, 21 rebounds, and 10 assists.
Murray contributed a triple-double of his own, finishing with 34 points, 10 rebounds, and 10 assists. Together, they became the first pair of teammates in NBA history to achieve 30-point triple-doubles in the same game.
Reflecting on Jokic's growth, Miller acknowledged that although the Serbian center has improved his conditioning, his fundamental skills and basketball IQ have remained consistent. "He hasn't changed much, to be honest," Miller observed. "The game's still slow for him. He still makes everyone around him better, and he goes and gets what he wants. He's just an impossible guard."
Miller emphasized Jokic's exceptional skill set, including his playmaking ability, scoring prowess, and remarkable touch. According to Miller, the 7-foot center was always a remarkable basketball player, but his improved conditioning has taken his game to another level.
Jokic is averaging 30.5 points, 13.4 rebounds and 10.1 assists in 39.4 minutes per game in the playoffs.