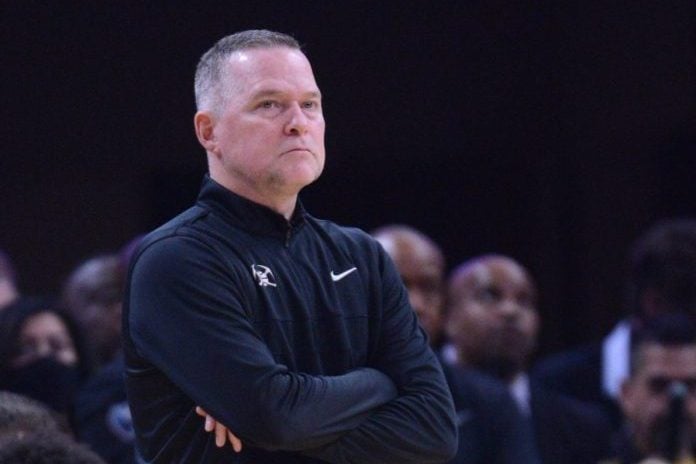 Michael Malone didn't mince words as he criticized the Denver Nuggets' lowly performance in their Finals Game 2 loss against the Miami Heat this Sunday.
Malone expressed his frustration and disappointment toward his squad's effort as the Heat outworked them to tie the  championship series at one game apiece.
"Let's talk about effort. I mean, this is the NBA Finals and we're talking about effort. That's a huge concern of mine," Malone said. "You guys probably thought I was just making up some storyline after Game 1 but I said we didn't play well. We didn't play well [this Game 2]. … We had guys out there that were just whether feeling sorry for themselves and not making shots, or thinking they can just turn it on or off.
"This is not the preseason, it's not the regular season, it's not a [playoff] round, this is the NBA Finals, and that to me is really, really perplexing, disappointing."
The Nuggets' lack of urgency was already visible as early as the first quarter when they trailed as many as 11 (21-10) against the Heat. Though they were able to turn things around in courtesy of a 15-point lead, Miami went off and stunned them in a complete turn of events in the fourth quarter with their 36-point blitz.
Denver might have shot over 50 percent from the field, but they didn't click offensively beyond the arc by shooting just 39.3 percent from the line (11-of-28). As such, things are opposite at the side of Miami as they were red-hot with 48.6 percent efficiency from their treys (17-of-35).
"I asked the team, I asked the guys 'Tell me why we lost?', and they knew the answer. Miami came in and outworked us. We were by far in our least disciplined game of these 16 or 17 playoff games," Malone stated. "So many breakdowns, and they exploited every one of those breakdowns and scored."
The Heat got five units who cracked within the double-digit mark, with Gabe Vincent, Jimmy Butler, and Bam Adebayo having 20+ points. Nikola Jokic had a monstrous scoring night with 41 points for the Nuggets, but Jamal Murray was the only one who provided the significant help with 18.
As the series is now hanging in balance heading to Game 3, Malone insisted that the only work they can do is to be more disciplined in their approach in order to take back the home court advantage against the never-say-die Miami club.
In the past three rounds, the Nuggets have greatly maneuvered with their home court advantage. But Sunday's defeat in the hands of the Heat marks the first time that they crumbled at home in this year's playoffs.
"If we're gonna try to go down there and regain the control of this series and get homecourt advantage back, we gotta have to outwork Miami which we didn't do tonight, and our discipline has to be off the charts," Malone concluded.