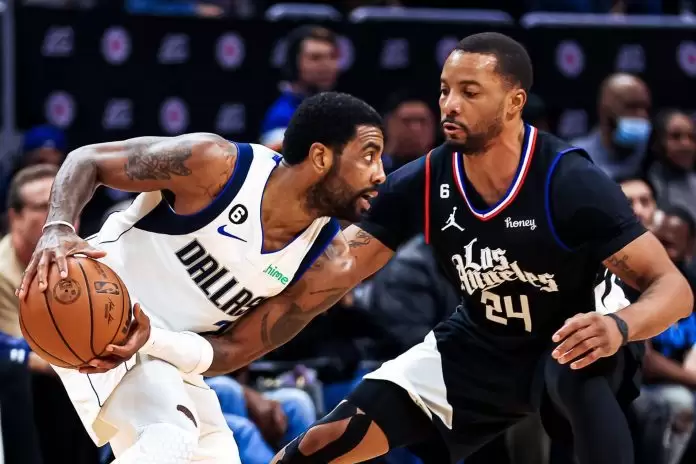 Following their disappointing exit in the Western Conference Finals, the Lakers are looking to bolster their roster and reduce the workload on 38-year-old LeBron James. Shams Charania, on the Pat McAfee show, emphasized the need for the Lakers to manage James' workload and potentially acquire a new point guard.
Charania identified Kyrie Irving and Fred VanVleet as top options for the Lakers. While he acknowledged that both scenarios are not necessarily likely, he stressed the importance of exploring these possibilities to strengthen the team.
"But even the bigger point now I think for the Lakers is 'How do we go into this offseason and manage the workload of LeBron James?' Because he's going in every night being the number one option. Now, I think he can do that at the age of 39. The question is, do the Lakers want to put him in that position? Does he want to be in that position?" Charania said.
"So they really have to build the roster out this offseason. Point guard position D'Angelo Russell, he's on max contract, he was benched the last game of the season in the playoffs in Game 4. What do they do at that position? I think they'll be aggressive potentially looking at that position…
"I think Kyrie Irving and Fred VanVleet have to be at the top of the list. I'm not saying either are likely for the Lakers. But if you're the Lakers, you have to look at both of these guys and see if there any options that you could exhaust."
Irving, an unrestricted free agent after a stint with the Mavericks, presents an intriguing option. The 31-year-old guard showcased his scoring prowess, averaging 27.1 points, 5.1 rebounds, and 5.5 assists per game this past season. With his offensive skills and championship experience, Irving could provide the Lakers with a dynamic playmaker alongside James.
On the other hand, VanVleet remains under contract with the Toronto Raptors but holds a player option for the upcoming season. The 29-year-old guard has until June 15 to decide whether to exercise his player option or explore unrestricted free agency. VanVleet's abilities as a scorer and facilitator, averaging 19.3 points, 4.1 rebounds, and 7.2 assists per game last season, make him an attractive target for the Lakers.
The Lakers' primary focus is building a roster that can alleviate the pressure on James, who has been carrying a heavy burden. As the team assesses their options, they recognize the need for a talented point guard to share the offensive load and provide additional playmaking.