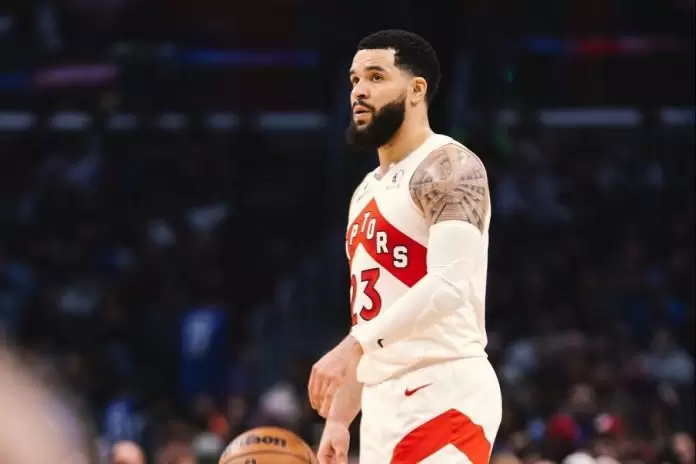 Fred VanVleet was absolutely fuming in his postgame presser with regard to the officiating of the Toronto Raptors' 108-100 loss against the L.A. Clippers.
VanVleet, who initially made it known that he is set to absorb a fine from the league, launched explicit remarks and specifically targeted referee Ben Taylor for having a personal issue against him.
The star guard also expressed his disappointment in the league, noting that the current season is disappointing in terms of officiating.
"I'll take a fine, I don't really care. Ben Taylor was f– terrible tonight. For most nights, you know, couple out of the three, there's one or two that just f– the game up," VanVleet said, via Basketnews. "It's been like that a couple of games in a row. Denver was tough, obviously. You come out tonight competing really hard, in the third quarter, I get a bu– tech, it changed the whole dynamic of the game, changed the whole flow of the game."
For reference, VanVleet was whistled for a technical with 7:02 minutes left in the third quarter of the match.
VanVleet implied that he was slapped with a technical upon reminding his teammates to continue their play amid questionable officiating, but his actions may have crossed the line to trigger a whistle.
"You know, most of the refs are trying hard, I like a lot of refs, they're trying hard, they're pretty fair, they communicate well, and then you got the other ones who just want to be dicks. It just kind of f– the game up," VanVleet added. "Nobody's coming to see that shit, they come to see the players. I think we're losing a bit the fabric of what NBA is and was. It's been disappointing this season."
In VanVleet's case of his eight total technical fouls this season, three came from Taylor. The recent one just added up on Wednesday.
The Raptors were assessed with 23 fouls to the Clippers' 18 total, but the home team went on to outnumber them in free throws, going 24-of-31 to their 13-of-14. 
"You can look up – most of my techs this year have been with Ben Taylor officiating. At a certain point as a player, you feel it's personal. It's never a good place to be, it's not why we lost tonight, we got outplayed but it definitely makes it tougher to overcome," VanVleet stressed out.
Prior to their landing in Los Angeles, the Raptors came off from a lopsided endgame against the Denver Nuggets, wherein Scottie Barnes was ousted from the game by crew chief Scott Foster after spitting words from a questionable foul call against teammate Jakob Poeltl
To conclude his spicy statement, VanVleet didn't hold back expressing his frustration on the manipulation being made by referees
"There've been certain times this year where I feel our team is getting consumed with the way the whistle is going, especially after the night we just had in Denver," VanVleet continued. "If I say to my team 'come on guys, let's keep playing to the bu–' and that warrants a tech, I think that's a little bit crazy."
"What are we doing now? There's a fine, obviously, I understand that but I think the jurisdiction and the power trip that we've been on this year with some of our officials in this league is getting out of hand. I'll take my fine for speaking on it but this is f– ridiculous."
Show comments