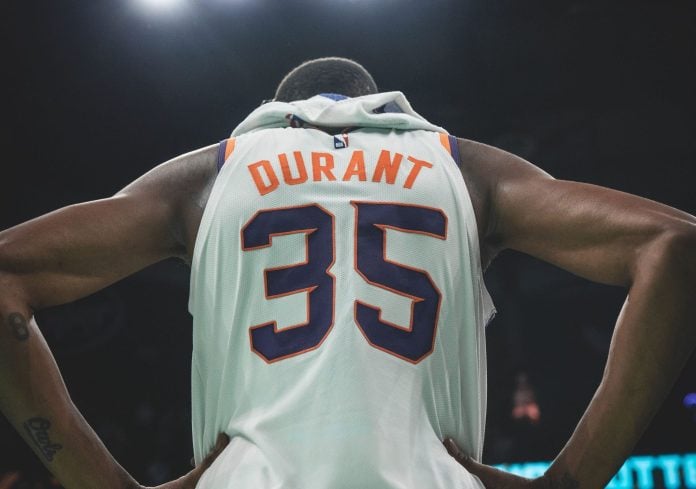 In his first official game donning the bright colors of purple and orange, Kevin Durant didn't disappoint against the sky-high hype towering in front of him and the Phoenix Suns.
As such, the superstar forward admitted that there are butterflies flying in his stomach as he hooped again on Wednesday – with plenty of considerations colliding at the top of his head.
"I've played in almost a thousand basketball games, but today I was nervous," Durant said after the 105-91 win over Charlotte Hornets, via Associated Press. "It's a new team, new group, and I want to play hard for them and be coachable. So, I was thinking about all that today."
"Yeah, it was fun," Durant added. "So I missed being out on the floor and going over strategy and just talking with the guys, the camaraderie, all that stuff… I got good intentions and I want to do well out there."
In his minute-restricted debut as a Sun, Durant churned 23 markers on 10-of-15 shooting and added six boards. His hot shooting night can't be more satisfying for the Phoenix faithful due to the fact that he was shelved to play since early January with an apparent sprained knee injury.
It took him significant time to finally be able to land in the Suns' hardwood, as the franchise took a bold move just to acquire him in a blockbuster trade with the Brooklyn Nets. The transaction made, without a doubt, puts Phoenix in the middle of grinding pressure as a legitimate title contender upon the addition of Durant to their loaded lineup that proudly features Devin Booker, Chris Paul, and Deandre Ayton.
But for the future Hall of Famer, there is nothing new in his position.
"I feel there is pressure on me and who I am every day," Durant said. "I put that on me."
Even coach Monty Williams acknowledged the noise buzzing around the squad with Durant now in their time. As all attention is focused on them, it serves as both an opportunity and a challenge.
After carving the Wednesday win, Phoenix maintains its grip the fourth place of the Western Conference with a 34-29 win-loss card.
"You feel it," Williams said about the pressure around Suns. "You feel it at the (team) hotel when people are lined up outside. You feel it in the gym. … Yeah, I feel it. I learned a long time ago that pressure and expectations are a privilege and you have to embrace those things because that is where the good stuff is."
With a new era officially commencing at the Valley, Durant is entirely focused to be more familiarized with his team. As he continued his previous rehabbing, the 13-time All-Star made efforts to be on the team's sidelines to show his support and willingness to build camaraderie despite being inactive.
"I know my versatility can help me a lot of different areas on both ends of the court," Durant said. "Being able to shoot the ball from different areas of the floor can help me, even if I don't know every small subtlety in a play I can still try to figure out just by movement and stuff."