Cameron Hildreth enters his sophomore year at Wake Forest with the highest of goals at the end of his American college odyssey.
"When I began playing basketball, my dream was to go to college in America. I've realised that. Now my next goal is to go to the NBA," Hildreth declared.
"I'm not changing that mindset. I am working harder than ever and I've got great coaches here supporting me."
Hildreth played his part as the Demon Deacons defeated a Barking Abbey All-Star team 99-75 in an exhibition game at Surrey Sports Park.
In the same venue he graced with the Surrey Scorchers before departing for the States, Hildreth, with parents, Daniel and Helen looking on, scored six points to begin Wake Forest's European tour as they travel to Paris and Amsterdam next.
"Being back and seeing my family, friends and former team-mates from when I was here was something I was really looking forward to," Hildreth said.
"For me, as a person and a player, I'm here to learn and get better everyday and coming back home and travelling to different environments and exploring parts of Europe is great for me."
Born into basketball thanks to Daniel, himself a former player and now a junior coach with Sussex Storm, he watched on as Cam showed glimpses of his father's tenacious defense and leadership.
Hildreth was energetic, defensively, grabbing a couple of steals and always looking to push the ball in transition.
His first score showcased his maturity at such a young age. Driving to the basket but running into trouble as he picked the ball up. Hildreth didn't panic; using his footwork to get himself out of danger, pivoting away from his defender and calmly slotting a seven-foot jumper.
He was a facilitator as well, looking to set up team-mates, including Daivien Williamson, who dropped 27 points, to lead to Deacs. Hildreth certainly has shown the British faithful that have followed him from his junior days what he has achieved during his freshman year.
"I'm just learning," Hildreth said. "First year for me was a step into the unknown but going into my second year, I want to learn from my mistakes, be the best player I can be and adjust where I can."
Hailing from Sussex, Hildreth is part of a basketball hotbed in Britain that has produced established players such as GB internationals, Luke Nelson and Ben Mockford along with Luke's sister Kyla and WBBL veteran Tia Freeman.
Appearing in 32 contests as a freshman, Hildreth averaged 3.9 points, 2.9 rebounds and 1.2 assists on 46.2 percent shooting.
Hildreth was not the only Brit suiting up for Wake Forest in Guildford as former Reading Rockets junior and Great Britain U16 international Matthew Marsh also begins his sophomore year.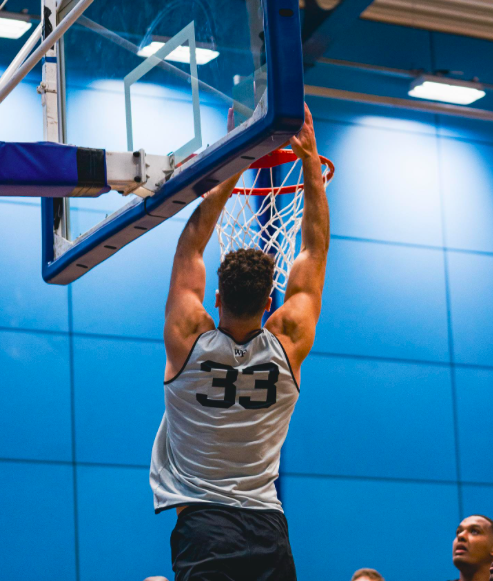 "It was amazing being here and seeing friends and being noticed for my impact on the court, it was fun," Marsh said.
"I grew up watching the BBL and seeing the best British players, so coming back and competing with them here was special."
Marsh, a Cornwall native, got a dunk on the opening possession, ending with nine points and he hopes to make a big impression, heading into year two.
"So far my experience with the program has been good," Marsh, a one-time Barcelona junior said.
"I used my freshman year to learn and progress and this year going into my sophomore year I am aiming to make an impact on the court and help my team any way I can."
Photo: Karl Youngman / Sussex Storm
Show comments