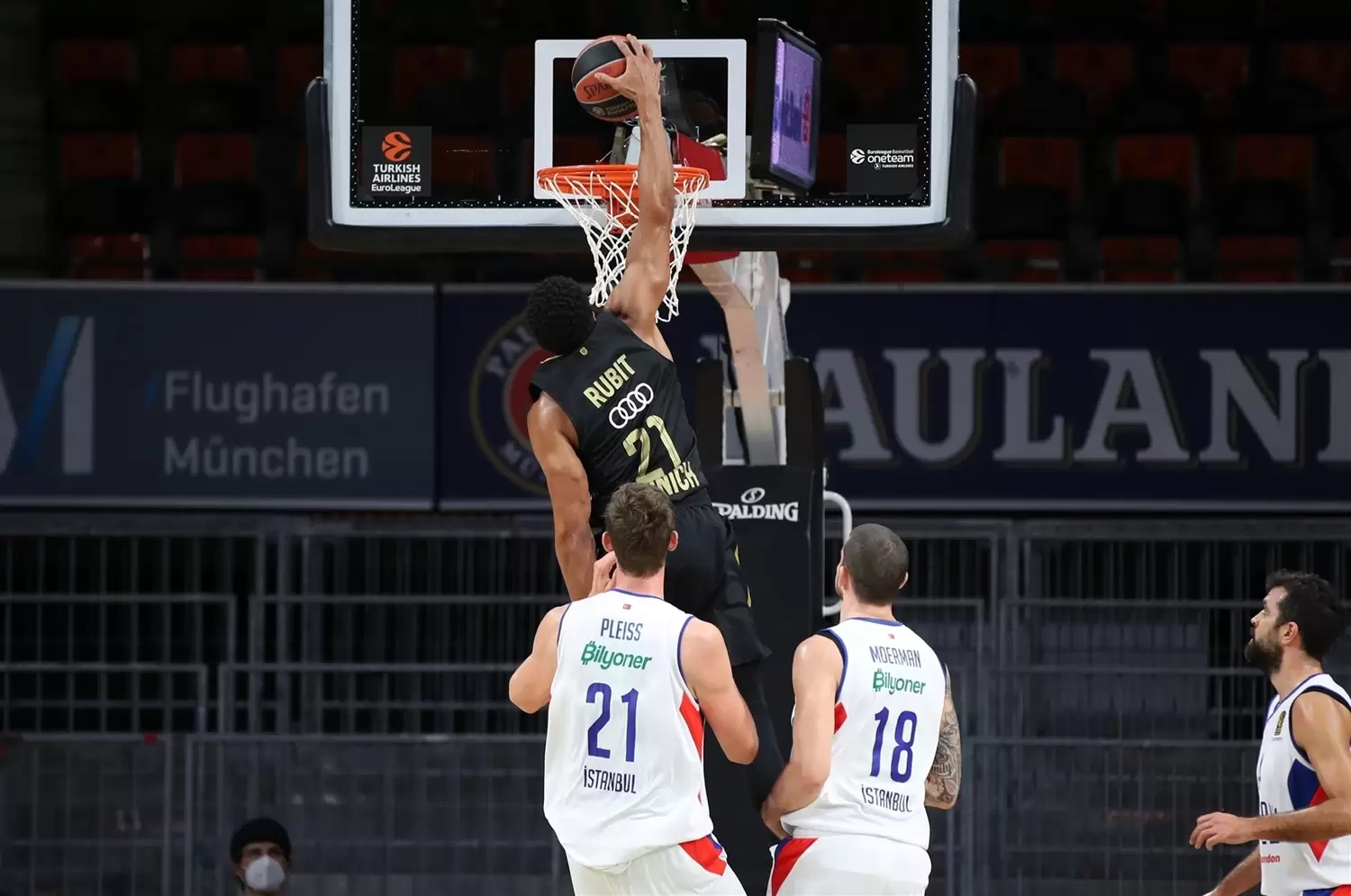 Bayern Munich maintained a playoff push thanks to its home victory over defending champions Anadolu Efes (83-71) in Day 1 of EuroLeague Round 14.
The Bavarians conceded only seven points in the fourth quarter and outscored the Turks 17-7 to cruise to the win. Before that, the visitors came back from a double-digit deficit early in the second half, but failed to remain competitive until the end.
Bayern Munich extended its winning streak at home to four games and is 5-2 at Audi Dome this season. They are tied with Maccabi Tel-Aviv and ASVEL Villeurbanne for the final playoff spot, at 7-7. On the contrary, Efes fell to 6-8, after losing its second straight.
Fenerbahce maintained its momentum and claimed a big road win over Zenit Saint Petersburg (80-86). It was a late thriller that was decided in crunch time, as the Turks made clutch plays to seal a crucial victory. This was the first time this season that Fenerbahce wins back-to-back games.
Jan Vesely (career-high 32 points) and Nando De Colo (18 points) led the visitors offensively and helped their team climb to 5-9. On the contrary, the Russians dropped to 8-6 and are one win away from the top four.
In a battle between two legit playoff contenders, UNICS Kazan rallied past Maccabi Tel-Aviv on the road and returned to the winning track (74-85).
The Israelis remained competitive for 30 minutes, but the Russians outscored them 8-22 in the final quarter to seal the deal. UNICS improved to 8-6 and has won five of its last six. For its part, Maccabi has lost four straight and is at 7-7.
Olympiacos missed the chance to come a step away from the top of the standings, after its road loss to Crvena Zvezda (81-76). A 9-1 run in crunch time gave the Serbians an eight-point lead (78-70) and the "Reds" never recovered.
Zvezda has now won two straight and improved to 6-8 on the table. Meanwhile, Olympiacos lost for the first time after three games and now is at 9-5.
At Fernando Buesa Arena, Baskonia exploded in the second half and dominated ASVEL Villeurbanne to return to the winning track (91-66). The Basques were unstoppable on both ends and outscored their opponents 46-22 to cruise to the victory.
The hosts snapped a three-game losing streak and improved to 5-9. On the contrary, ASVEL fell to 7-7 and is on a three-team tie for the eighth place.