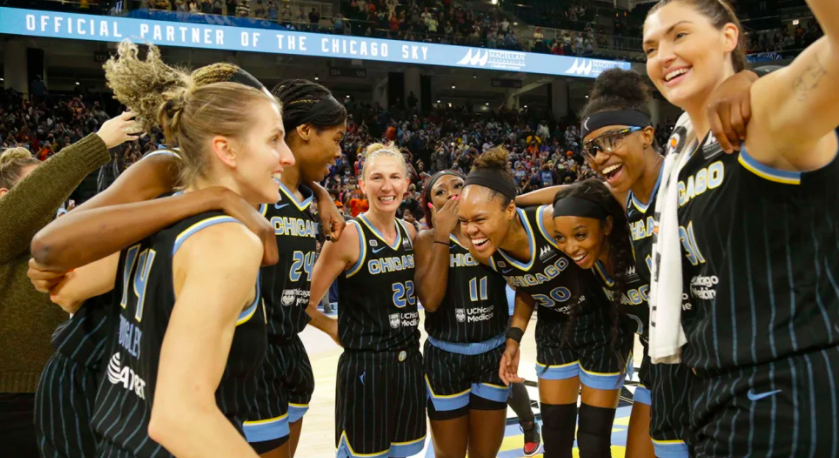 Chicago Sky won their first WNBA title by defeating the Phoenix Mercury 80-74 in a pivotal Game 4 to clinch a 3-1 series win.
A measure of revenge for the Sky, having tasted bitter defeat in their only previous Finals appearance – a sweep at the hands of Diana Taurasi's Mercury – back in 2014.
But also, a second, and perhaps the most meaningful of championships for Candace Parker. A player who shook the basketball landscape by joining her hometown team after 13 seasons with the Los Angeles Sparks during the off-season and reached the top of the mountain in her first season at home.
For good measure, Parker amassed a double-double of 16 points and a game-high 13 rebounds in Game 4.
Kahleah Copper was named Finals MVP for the Sky. She had just 10 points in Game 4, but an average of 17 points and 5.5 rebounds in the series pulled Chicago to the finish line.
Close behind her in the MVP votes was the general Courtney Vandersloot. One of the two survivors from the 2014 Finals loss, she was determined not to go 0-2.
In the clincher, she neared a triple-double in Game 4, which would have been her second and the third overall, with 10 points, 15 assists and nine rebounds. The veteran set an all-time record for assists (50) in any post-season series, per Her Hoop Stats and she dished out 102 assists this playoffs, another WNBA record. 
The other survivor, Allie Quigley led the Sky with 26 points including triples in the final period that kept Sky in the tie with Vandersloot adding the finishing touches.
The Sky are the first team not seeded No. 1 or No. 2 to win the WNBA championship. They finished the season as the fifth seed, going 16-16.
Phoenix were led by Brittney Griner, as she scored a game-high 28 points with seven rebounds, two assists, one steal and one block.
But even with established greats like Griner, Skylar Diggins-Smith and Taurasi, widely considered as the best women's basketball player to grace the hardwood, this was the Sky's time.
Show comments