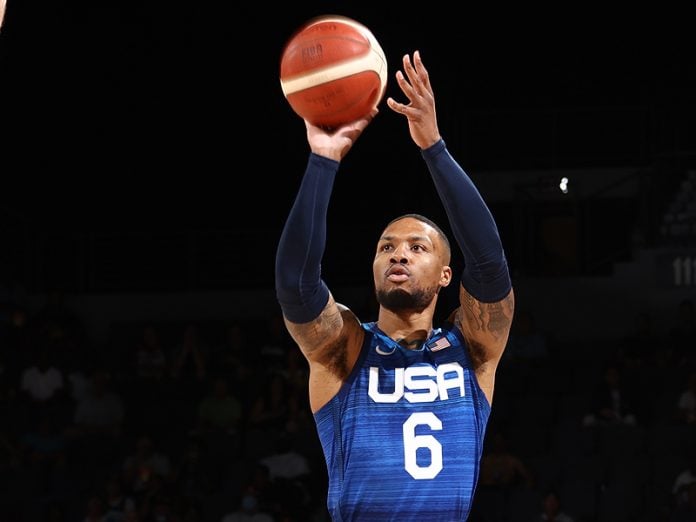 The 2021 edition of Team USA is still finding its game. After three scrimmages, the Americans are 1-2 having lost to Nigeria and Australia and defeated Argentina. There are plenty of NBA stars on USA roster, among them is Damian Lillard.
The Portland Trail Blazers point guard admits that Team USA is not used to playing together, except for Kevin Durant and Draymond Green, which makes it more difficult for them to play the way they want. Another adjustment that the team is facing is differences between NBA and FIBA basketball, both in terms of rules and style of play.
Lillard also pointed at other teams being together for longer and knowing each other better. He thinks that even though USA does not want to lose, it is better that the losses are happening now rather than during the Tokyo Olympics.
I think it's been a process for all of us. None of us have ever really played together other than KD and Draymond. International game is so much different. Like, we trying to figure out how to play that game. And also how to be a team and not just a bunch of talented individuals. These other teams, they've been in camp longer than we have, they in better shape than we are right now. They've been playing as a team for years and years as a national team, so I think it just shows that the talent is getting better around the world and we're just not going to roll out the ball and beat 'em.

We've got to be in shape, we've got to be sharp and we've got to come together as a team to win these games. Each game we've played better, like (versus Argentina) I thought we looked like Team USA, but that's because we're playing ourselves into better shape, we getting more comfortable with each other, guys are kind a just falling into what they see themselves being on the team. And that's it. Everybody is expecting us to just blow everybody out, I think it's better that we experienced it now. Australia is a competitive team, Nigeria is a really good team this time around, they got NBA players out there. It's better than us picking a few teams that we can just beat up on, we playing against good competition and teams that have experience together. Obviously we don't want to lose, we don't want to be that team, but I think it's better to happen now than for us to come out here, have it easy and then we go to Tokyo and just get our ass whooped.
Team USA is set to play two more exhibition games before the Olympics. Their opponents will be Australia and Spain. The reigning gold medalists will start their olympic campaign in Group A alongside debutants Czech Republic, France and Iran.
Show comments