A season with many ups and downs is finally over for Maccabi Tel Aviv, who managed to add another Israel Basketball League Championship to their trophy case, after downing Hapoel Gilboa Galil in the best-of-three finals. It was the best remedy for the Israeli powerhouse, who missed the EuroLeague play-offs by a mile. The last game for the Yellow and Blue in the 2020-21 campaign may as well have been the swan song for one of the team's towering figures, Omri Casspi, who is considering ending a 16-year-long pro career.
Casspi, who recently turned 33, started off with Maccabi Tel Aviv in 2005 and 4 years later, became the first Israeli basketball player to be selected in the first round of the NBA Draft, when he was the No 23 pick overall. He went on to have a significant NBA passage with the franchise that chose him, the Sacramento Kings, but also the Cleveland Cavaliers, the Minnesota Timberwolves, the Houston Rockets, the New Orleans Pelicans, the Golden State Warriors and the Memphis Grizzlies. Overall, he got to compete in 588 games over a decade (2009-2019), posting 7.9 points, 4 rebounds and 36.8% on three-point efficiency in 20 minutes of playing time.
The Holon-born athlete had won two championship titles with Maccabi before moving to the States, but he never enjoyed the star status he was greeted with upon returning to his country of birth. Following a stellar 2019-20 season both domestically and in the EuroLeague, where Maccabi had already punched their playoff ticket, Casspi returned to action after a knee injury had kept him sidelined for roughly the entire calendar year. The season was harsh for everyone, as players and teams had to deal with the coronavirus pandemic, while Casspi only averaged 6.6 points, 4 rebounds and 2.6 assists in 14 Israeli league games and 4.1 points, 2.4 boards in 16 Euroleague contests.
While his future with Maccabi and basketball is still in the air, Omri Casspi talked to TalkBasket.net last March, after his team's loss to Panathinaikos in Athens. The versatile forward referred to many topics, including the changes that the EuroLeague has undergone through the years, as well as Deni Avdija's potential. Avdija was drafted by and joined the Washington Wizards in 2020, finishing his rookie season with 6.3 points and 4.9 rebounds over 54 games. Omri Casspi also touched on his interest in the cannabis business, since he has partnered with former NBA player Larry Sanders, as an investor. They promote a sublingual, water-based cannabis-infused product that can be sprayed under the tongue for faster absorption, a venture in which also three current NBA players have been involved.
Q: How has the season been for you and Maccabi in the EuroLeague?
A: It has been a whirlwind, with many ups and downs. Unfortunately, we didn't play at the level we wanted.
Q: Did you ever expect that a Greek coach (Giannis Sfairopoulos) would take over Maccabi and an Israeli coach (Oded Kattash) would lead Panathinaikos?
A: Coach Sfairopoulos is a symbol of Greek coaching. Both are good coaches and have a lot of good plays. Kattash came to Maccabi in 2007-08 and I played for him at Galil Elyon and Maccabi as well. He's an excellent coach, playing intense basketball, switching on defense. He's very intelligent and creative on the offensive end. I think that his style of play is where most of basketball is heading towards: switching, players covering multiple positions. If he's given the time to prepare his team, he's going to be much better.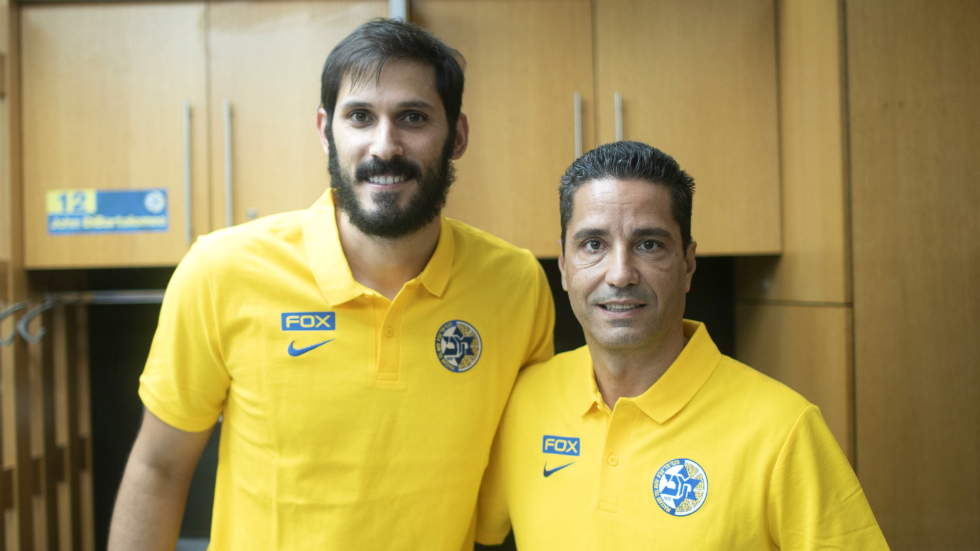 Q: To what extent is the EuroLeague changed since you last played there?
A: Much. The game has changed a lot, moving faster and players shooting more threes. But that's the way it is everywhere in the world.
Q: You have played in the NBA for ten years and at a top level in Europe as well. Which are the main differences that you could pinpoint in the course of three decades of basketball?
A: Yes, now the traditional centers are evolving towrds being rollers and playing in a certain way. Things are evolving and changing.
Q: Did you feel as an Israeli ambassador to the NBA?
A: I never really thought about it.
Q: Did you watch Deni Avdija's games?
A: Of course. He's making progress as a rookie, learn from his ups and downs. He has to learn how to handle fatigue.
Q: Does he remind you of yourself a bit?
A: A little bit, you know … I went through a lot in my first year in the NBA. The transition to a different style and more games was hard. Deni is a talented guy and he's going to work it out. Hopefully, he's going to have a very long career.
Q: Was not playing in the playoffs the thing that you missed the most while you were in the NBA?
A: To a certain extent, yes. I may have gotten a championship ring, but some unfortunate things and set of events happened. At the same time, it is what it is, part of the game.
Q: How about the cannabis business? Is it something that you want to develop and invest in?
A: I like to invest and I believe that the farmaceutical side of the science industry has many aspects. At least, that side is a no-brainer. I'm very active there; we'll see.
Q: Are you looking forward to taking it up as a full-time job after you're done with basketball?
A: I don't think so. Right now, we invest and let the professionals decide on what's best.
Q: Will you stay in basketball?
A: I don't know. I love the game and there's nothing else I do or know better. Obviously, I've been doing it for many years in my life; many different coaches, from Steve Kerr to George Karl to Kevin McHale and Byron Scott. Everyone has their own colors and flavor. I've played for good coaches in Europe, from Pini (Gershon) to Kattash and Sfairopoulos. So, I will be good.
Show comments