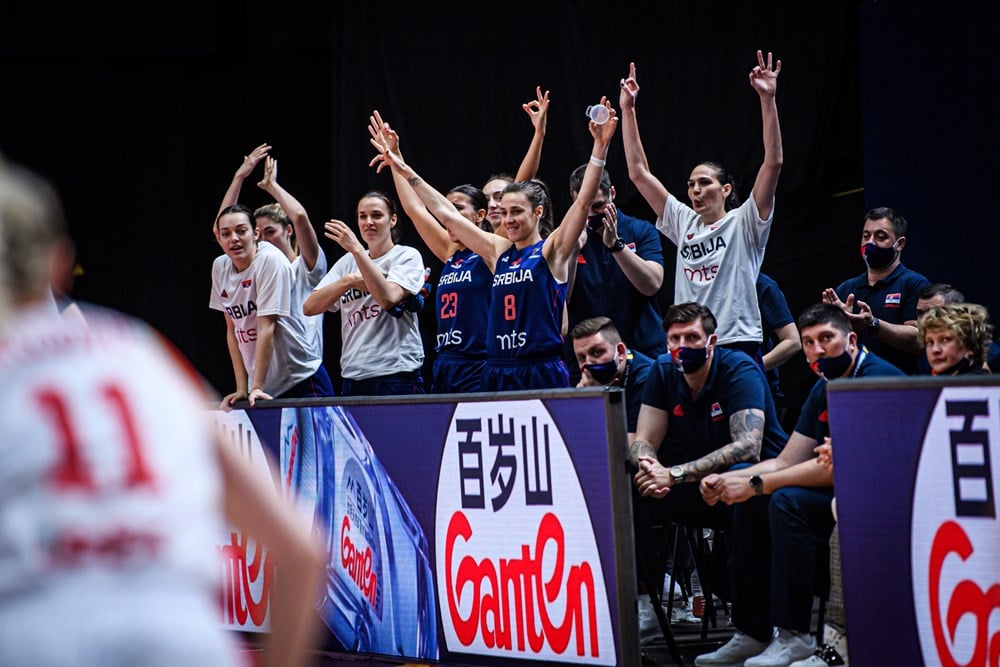 Serbia advanced to the Quarter-Finals by beating Montenegro 87-75 in the last round of the first phase at the FIBA Women's EuroBasket 2021.
As the first and the only unbeaten team in group B, Serbia directly clinched the spot at the Quarter-Finals and will wait for its opponent.
On its way, Serbian women's national team won against Italy (86-81) in the first game, against Greece (85-51) and finally in today's game against Montenegro (87-75).
Before this competition, players and coaches told the press that the only way to beat opponents is to focus on their own game and that was exactly what these girls did.
Looking into the stats of the last match, Serbian strength was rebounds and three-points percentage. Montenegro had 9 fewer rebounds (Montenegro 27, Serbia 36), and Serbia made 9 out of 20 against Montenegrin 4 out of 15 three-point shots.
Tina Krajišnik was the best with 20 points and 9 rebounds (index rating of 28) in the Serbian team. Her 4 teammates also finished the game with double-digit points. Yvonne Anderson added 14, Jelena Brooks 13, Sonja Vasić 12, and Nevena Jovanović 11.
In the team of Montenegro (which finished the second first group phase and will be able to fight in the second phase for the Quarte-Finals), Markeisha Gatling was the best with 22 (index rating of 28). Both Božica Mujović and Jelena Dubljević added 10 points each.