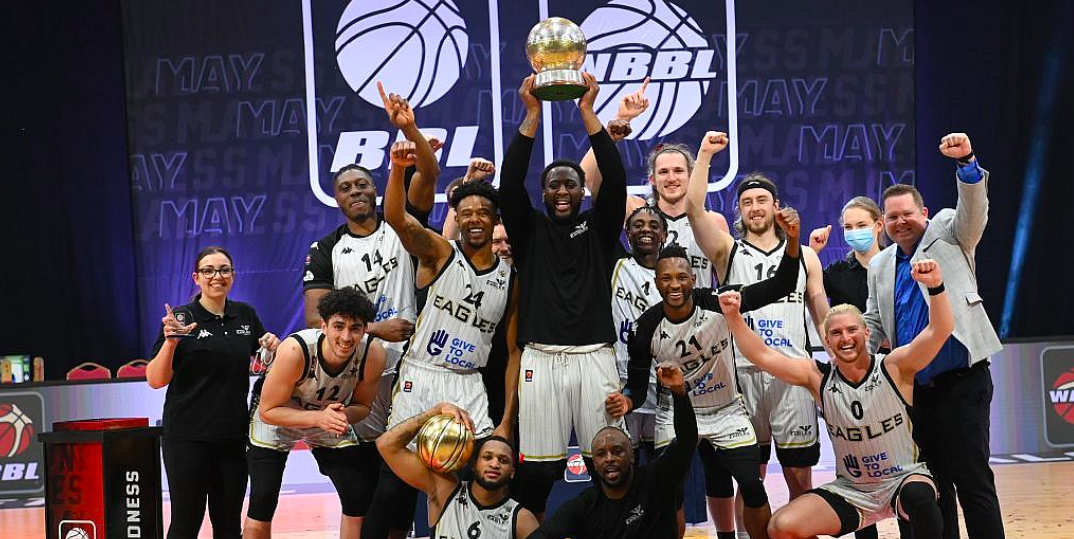 As Newcastle Eagles celebrate a 27th domestic title to close one of the more unusual British Basketball League seasons in recent memory, their first trophy was simply all about getting everyone singing from the same hymn sheet. 
And that wasn't even the players, more so the spectators in attendance.  
A sunny March afternoon at the Brighton Centre back in 2005 saw the Eagles face the Brighton Bears in the BBL Trophy final. The Bears – coached by Nick Nurse of Toronto Raptors fame – were tipped as favourites and despite the pre-determined venue choice, also on home court.
Eagles super fan, Matthew Beaty, then an enthusiastic 19-year-old knew that there would be a mixture of local Brighton interest as well as thousands of Bears followers. 
So, to make the day memorable, he created a sheet of chants for their new supporters that their dedicated fan-base, named the 'Out of Toon Army' sung during games.
"I did the song sheet because I knew there would be a lot of new fans going to the away games," Beaty, now a 35-year-old, father of one recalls.
"I was a hardcore fan for a long time before that, with a decent core of us and we sung a lot of different songs about a lot of different players. 
"I did a quiz on the Saturday coach trip to keep the fans entertained, announced the winners on the way back on the Sunday. A second coach load of fans came on the Sunday, so I knew we'd have an unbelievable turnout, meaning a lot of the fans wouldn't know the songs. 
"So I did a song sheet and saw a few fans from a previous game and they were very loud so I went up and said, 'give our Eagles a hand please', not that we needed it, the noise on our side was deafening."
With some of the locals switching their loyalty to Newcastle and the "Bear Cage" transformed into the "Eagles Nest", Beaty's side won their first bit of BBL silverware with a resounding 85-60 success. 
"The weekend will live with me forever," Beaty says. "To being nervous the night before, where everyone in the hotel kept asking if I was OK? To winning and sharing my experience with my brother was amazing."
16 YEARS ON…
Fast forward a little over 16 years later and Newcastle were again underdogs in Sunday's BBL Playoff final against a London Lions team stacked with players that boast high European and even NBA quality.
Throw in a 12-point deficit towards the end of the third quarter and Newcastle's chances were slowly deteriorating. London had the edge all game long and the Eagles were grounded. 
However, thanks to the eventual Playoff final MVP, Cortez Edwards, Newcastle rallied, they were patient and in the opening minutes of the fourth soared into the lead with Edwards lobbing to Evan Maxwell for the dunk. 
In a physical battle throughout, typical of post-season basketball, the game was knotted up at 66-66 with a minute to go, no fans in attendance to roar and cheer their teams on, it was nail-biting, edge of your seat stuff. Ultimately, MVP Edwards settled the season's finale from the foul line.
And Newcastle maintained their composure. As the most successful club in Britain, they needed every inch of their big game pedigree to get the job done.
During a period where the coronavirus caused unimaginable havoc on the country, and the world, Newcastle ended an unforgettable yet strange season with two trophies.  
"There's lots of different measurements of success," Eagles coach Ian Macleod said. "Externally, it looks like trophies and we've got two of those, so it's a successful year."
With their loyal fan base barred from entering the Morningside Arena in Leicester due to covid and forced to watch online and on TV, they will certainly be overjoyed at the season they have had.
To think it all started for those fans with a hymn sheet of different chants.