Tarik Black recently returned to Europe for another round. After becoming a father for the second time, the 29-year-old center joined Zenit Saint Petersburg for the remainder of the 2020-21 season, one for the books for the Russian side.
Zenit are ready to play their very first EuroLeague playoff series against continental giants FC Barcelona. Despite lacking the home-court advantage that could give them a significant advantage, since gyms in Russia operate in an increased capacity compared to other cities in Europe, the team coached by Catalan tactician Xavi Pascual has surpassed all expectations until now.
However, the journey will only continue if Zenit manages to overcome the biggest obstacle that has come their way thus far. FC Barcelona were the EuroLeague regular season winners and the fact alone speaks volumes about their potential. On the other hand, Zenit boasts a frontline where Tarik Black with his experience can easily complement fellow bigs Alex Poythress and Arturas Gudaitis.
Black last played for Israeli powerhouse Maccabi Tel Aviv, averaging 9.1 points on 61.8% two-point shooting and 4.8 rebounds in 11 EuroLeague games in the 2019-20 campaign, which was cut short for him due to injury and for all teams involved because of the pandemic. His professional basketball career started with the Houston Rockets and the Los Angeles Lakers, where he contested a total of 227 games over the course of four years (2014-18), averaging 4.9 points and 4.7 rebounds. Tarik Black left Memphis for Kansas in 2013 and obtained his Masters degree three years later, while playing with the Lakers.
The Memphis-born athlete sat with TalkBasket.net for a thorough interview, one of the longest and most in-detail of his career. The ups and downs in his path, the pleasant and the unpleasant suprises that he met, the players and the the situations that have left their mark in his life.
Q: How are things for you in Russia so far?
A: Things are going really well. We made the playoffs, the team is playing well. Saint Petersburg is a beautiful, amazing city; my family loves it also.
Q: Right now, Zenit are first in the VTB standings and will play their first-ever EuroLeague playoffs. What do you make of the team?
A: I want to believe we're pretty good. The accolades you just mentioned just speak to our talent, the team's ability to play together, how good of a collective we are and how great they started the season, withholding and withstanding ups and downs.
Q: What is it required to take down FC Barcelona?
A: Team camaraderie. We definitely have to play as a team, as a unit, be on the same page with one another. This Barcelona team is amazing, as we all know, but we're on point, playing together. If we play our best basketball, it can be a very interesting series.
Q: Are you excited ahead of a potential match-up against Lakers legend Pau Gasol?
A: Man, Pau is a legend. I grew up in Memphis, where he obviously started his legacy as a Grizzly and became the best we've had for the team. So, I grew up watching him. It's amazing to be able to share the court with a player, whose career I respect. It will be very exciting to play against him.
Q: Xavi Pascual said that having to add a player to a team in the middle of the season is never easy, like a mixed blessing. He was referring to Pau Gasol in Barcelona and also to your case. Pau hadn't played at all for almost three years, you were in a one-year-long hiatus. How do you feel being back?
A: I feel really good. Would have been a better fortune how I got here. I walked a couple of strolls to make it this way, overcoming some obstacles, but once I got here and I was able to play, it felt good. I am pretty confident that I can help this team out with the training days I embarked on before I got here.
Q: Tarik, you probably tested the NBA waters during free agency last autumn. What did you make of the market? Was it as you expected?
A: One of the main reasons why I went on hiatus last year was to see the NBA waters, but mostly because my wife was pregnant with my daughter during the pandemic. The NBA waters have always been very treacherous and with the pandemic, teams did not have as much money and there wasn't as much happening. There has been also different rules and regulations, coming to this season.
So, there were situations that made it more difficult, but I had something going on that was even greater than testing those waters. The reason why I set off for a while was my daughter being born. I had to make sure that my family was safe. I wanted to be careful and my daughter to be healthy. So, I spent some time with her before I got reacclimated and set back to the basketball world.
Q: It's a peculiar situation on both sides of the ocean, as we watch key players of European teams, like Campazzo, Deck and Mike James depart for the NBA in the middle of the season.
A: Yes, and I wasn't too aware of Campazzo's situation because I wasn't in Europe when it happened. It's a very interesting time and I wish the best for those guys. They are amazing players. It's definitely part of the process, a reality that can happen.
Q: Zenit has a stacked frontline with you, Alex Poythress and Arturas Gudaitis. I guess you know Alex from your NBA time. Does he remind you of yourself a bit?
A: I wouldn't necessarily say that … In full fledge, we're a little tad different, to be honest with you. But I've known Alex longer than that. We're both from Tennessee. So, I remember him playing in high school. He's two years younger than me. I was watching his process, his journey to Kentucky and then growing. I'm happy for him and proud of him. We share advice for one another. He's definitely been a pivotal part in me adjusting here, what coach was looking for. He's been huge for me, advising me more than myself for him.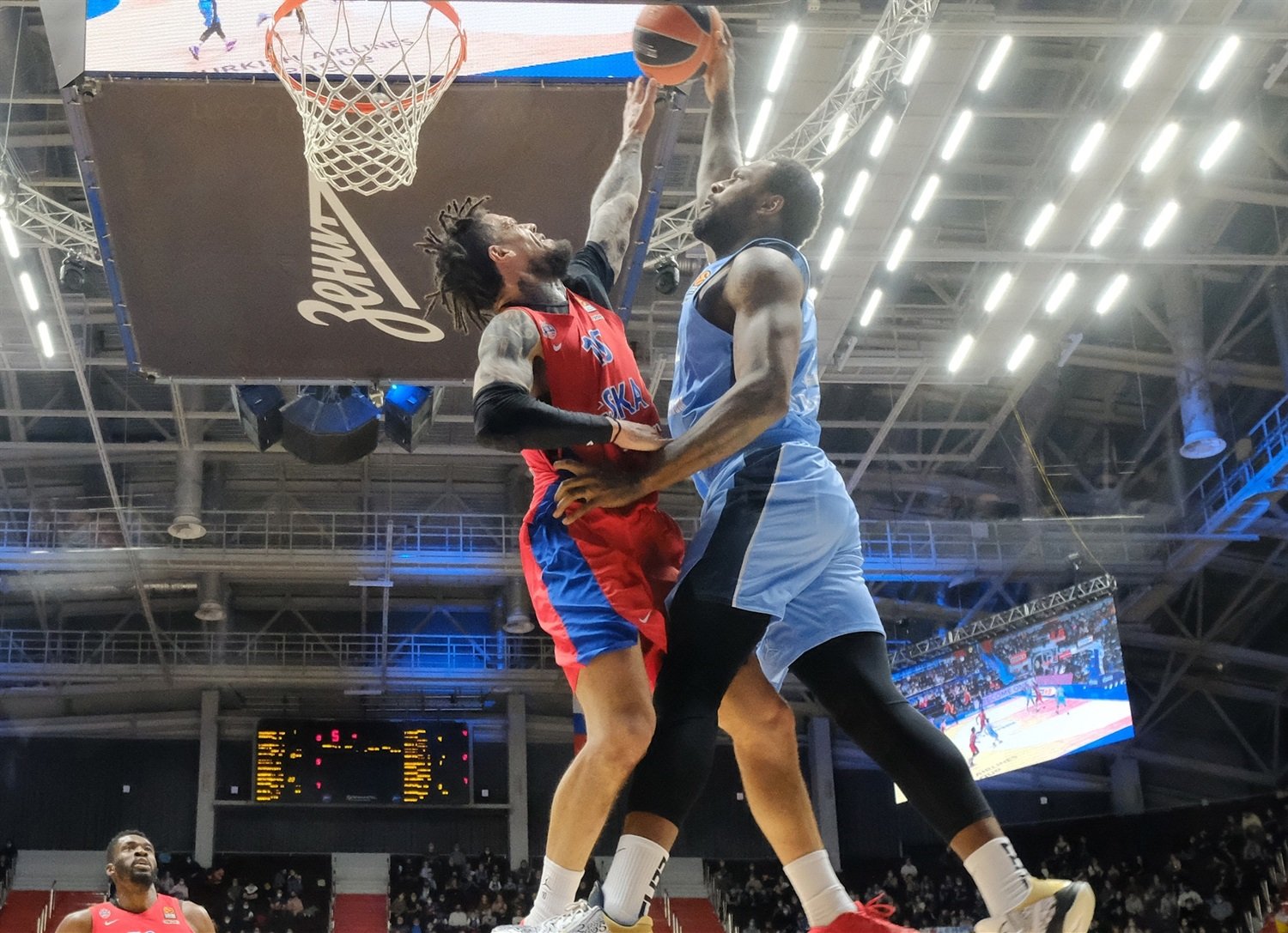 Q: How did you adjust to a new role in Europe, being a starting center and less of a role player?
A: For sure, it was an adjustment for me coming to play in Europe. As for the starting role, I also started in the NBA quite a bit, with the Houston Rockets and then with the Lakers in my rookie year. I've already been a starter in high school and college. You have to walk down your process and get used to it instead of rushing it.
Q: Do you feel like you have grown your game while overseas?
A; Yeah, I feel I've grown wiser as a player. I see the floor differently, my I.Q. is a bit different nowadays compared to when I was younger. Also, my skill set is a bit different than when I was in the NBA: putting the ball in the floor more, short-roll situations, trying to "read" situations, becoming a better passer, better feel for the ball… All those things.
Q: In 2019, you signed a new two-year deal with Maccabi and in December of the same year, you got injured. The main reason why you left the team was because you were expecting your baby daughter to be born?
A: Yes, that was the only reason, to be honest. When I agreed to a new contract, none of us were aware that the world would go into a pandemic. When those things happened and we were being called to come back across the water, as a father and a husband, I couldn't come to terms with putting my family at risk, especially with my wife being pregnant. So, I made a very tough decision not to do so. It was about choosing to be a husband and a father over a basketball player.
Q: To what extent was your Maccabi experience a life-changing one?
A: It was a drastic change; definitely, a life-changing experience for me. I was trying to get acclimated to a new culture, to different people. It cultivated me as a man, since I got the chance to experience the world, see the different dynamic of life outside of America. It trained me to be more patient, calmer. There are certain things that us Americans take for granted, that we think they're amazing, things that we grow and get used to or become norms. It obviously brought a brand new perspective on life.
Q: In a EuroLeague blog, you wrote that "America has a way of boxing our minds in." What made you nervous in the States and what gave you peace of mind abroad?
A: My faith, my groundedness and my belief that God is good and he will take me anywhere, looking out for me and my family, have given me peace of mind. From there, I know that I can be a better person by experiencing something different. Experiences make our life. The way we make decisions is based on perception, which comes from experiences and learned lessons. Moving away definitely gave me the opportunity to grow and learn. It was nerve-racking for my comfort level, but I felt comfortable as fas as safety goes. I had to find out what that life would be like – and it was amazing.
Q: What was the best part about being a Lakers player?
A; I can't say… There were so many highlights to it. You name it: playing with the legend, in an awesome city, with the most notarized organization in the world. Maybe Real Madrid or Barcelona soccer clubs can be compared to one of the most world-renowned names. Getting to meet some Lakers legends, being part of a young class of players, growing up with the likes of Julius Randle, Jordan Clarkson, Larry Nance, D'Angelo Russell. I can't really pick the best part.
Q: Were there any questions left in you as to why you didn't play more under coach Byron Scott?
A: Of course there were. But I do appreciate that the experience I went through in that time and his decision built my character. I care about that more than basketball. That's the way I came to be the type of person I am today. Those life-changing experiences determine who we are.
Q: How did you receive the news of the Lakers putting you on waivers only three days before your contract became guaranteed for the 2017-18 season?
A: I knew they were going to make room for Josh Hart that year. They were looking to sign him. I also knew I was on a non-guaranteed contract and even though we had some discussions about the potential of it, it wasn't super-surprising, but it definitely was a shocker that made sense. I could see it coming, but I had never experienced it before. So, it definitely put me in a very vulnerable space. Other than that, I am thankful for it now.
Q: You always had the fame of a good teammate, a blue-collar player who always puts the team first. Your former teammate at the Lakers, Marcelinho Huertas, described his experience as a "bad situation", one that he "couldn't fight through". He added that some players are spoiled because of the power they have. Do his words ring a bell?
A: There's a lot that rings a bell, but again there are so many things that can ring a bell. I agree with him on a lot of things that he said because at the end of the day it's his perspective.
There are situations where it doesn't matter what you do. Teams may lack a certain player or they might be prioritizing him, for whatever reason. When I was in Houston, I was playing pretty well. But at the end, they weren't playing me as often.
When I went to Los Angeles, I went from a situation (in Houston) where I was so much younger than anybody else to the Lakers where I took off. My rookie year with them made my career. So, different situations play out and open doors. The Lakers actually catapulted my career.
Honestly, Houston opened the door and gave me a huge platform that is irreplaceable. They built my foundation, but my trajectory was established with the Lakers. But I can tell you different things about both circumstances that will ring a bell for anybody who has played the game.
I know that Marcelinho did have a tough time with the Lakers. I love him to death, man. He is an amazing player and it's unfortunate how things played out. When you're not playing, it's tough, anywhere.
Q: There was an incident at Kansas, where you dunked on Joel Embiid and he almost quit basketball. Do you recall it?
A: Yes, I know what he was talking about.
Q: Do you believe that he is a viable MVP candidate this year?
A: I don't watch the NBA at all, to be honest. But I looked up his numbers the other day and knowing the player that he is, I think every season he has been a viable MVP candidate. I think he will continue to be.
One thing about that story that he didn't finish telling was the conversation that we had the same summer. I told him that he would be one-and-done (editor's note: One who plays college basketball for a single year and then declares for the NBA draft). I told him that he should be the best big of our generation. That's the part of the story that he didn't necessarily need as information, but I believed in him. I saw some tension in him. He's an amazing, breathtaking talent, honestly. I love seeing his growth process, he makes me proud.
Q: When I talked to your mother Judith Black-Moore on the occasion of the Sports Tech Youth Challenge and asked her if you intend to run for mayor in Memphis, she laughed and said: "Time will tell." What do you have to say about that?
A: Same response: Time will tell. It depends on how my life goes. I don't know whether it's a goal or an aspiration, but it's something that if the time ever came and an opportunity was presented, I can't tell you right now that I would turn it down. It would be an honor. I also don't know if the best way to serve the community would be from the mayor's office.
Show comments